QR code or a quick response code is a type of barcode, which is born from the method of representing data in a visual, machine-readable form. Barcodes represent data by varying the widths and spacings of parallel lines and unlike barcodes, QR codes are completely made up of black squares arranged in a square grid on a white background, these symbols or characters are completely confined in a box, no matter the length or the size of the file stored inside the response code. This can be read by any imaging device such as a camera, and processed using Reed–Solomon error correction until the image can be appropriately interpreted. The required data is then extracted from patterns that are present in both horizontal and vertical components of the image.
QR codes have their potential uses in each of the major fields currently in trending they run haywire in these fields and increase the efficiency of the website/app accordingly, thereby decreasing the workload of the user and increasing the fun of using that app/website even more than before. Some of the game-changers here are-
MOBILE OPERATION-
QR codes can be used on various mobile device operating systems. iPhones running on iOS 11 and higher and some Android devices can natively scan QR codes without downloading an external app. The camera app is able to scan and display the kind of QR code (only on iPhone) along with the link (both on Android and iPhone).
QR CODE PAYMENT-
QR codes can be used to store bank account information or credit card information, or they can be specifically designed to work with particular payment provider applications. There are several trial applications of QR code payments across the world. In developing countries like China, India and Bangladesh QR code payment is a very popular and convenient method of making payments. Since ALIPAY designed a QR code payment method in 2011, mobile payment has been quickly adopted in China. As of 2018, around 83% of all payments were made via mobile payment.
JOINING A WIFI NETWORK-
Now, this seems a bit funny about using the Wi-Fi network. The users who own a Wi-Fi network can share their Wi-Fi password, even if they forget! all they need to do is to open their Wi-Fi settings and hit the share password option, and then appears a QR code upon scanning that the user can access the Wi-Fi password.
RESTAURANT ORDERING-
Fast serve restaurants can present a QR code near the front door allowing guests to view an online menu, or even redirect them to an online ordering website or app, allowing them to order or potentially pay for their meal without having to stand in line or use a cashier. QR codes can also link to daily or weekly specials that are not printed on the standardized menus. At table service restaurants, QR codes enable guests to order their meals without a waiter involved—the QR code contains the table number so servers know where to bring the food. This application has grown especially since the need for social distancing during the 2020 COVID-19 pandemic has prompted reduced contact between service staff and customers.
VIDEO GAMES-
Now, this is my favorite part about the QR codes, Popular video games, such as FEZ, THE TALOS PRINCIPLE, and WATCH DOGS, have incorporated QR codes as story and gameplay elements. AMONG US has a QR code Easter egg in the "Scan boarding pass " task in the MIRA HQ map. Mobile games such as MUNZEE use geolocation in combination with QR codes to create a game that is played in the real world by scanning QR stickers in physical locations.
The easy for making a QR code in MS EXCEL is to download the latest version of MS office, this consists of all the office apps such as PowerPoint, Word, Excel, Access, and other apps. This process consists of 4 steps-
Step 1-open and create an excel sheet, fill in all the data required in the cells and save it.
Step 2- Click Developer > Insert > More Control to access the bar-code and QR code options.
Step3- In the More Controls window, check for the Microsoft Barcode Control 16.0 or Microsoft Barcode Control 15.0.
Step4- Select the no. of cells that you need them to convert as a barcode or QR code. And hit the MICROSOFT BARCODE CONTROL OPTION to convert the data in the cells to a QR code or a Bar code depending upon the requirement of the user.
Step5- save the progress made to the excel sheet, and copy and share the QR code to access the data within the code.
Now if you don't find any Microsoft Barcode Control 16.0 or Microsoft Barcode Control 15.0 option in your excel it is only because the excel version in your device is old and make sure to update the excel and other office apps to its latest version.
There is an alternative solution for this trouble, but the trick is that it involves the use of google spread sheets.
Google spread sheets-
Google Sheets is a spreadsheet program included as part of the free, web-based Google Docs Editors suite offered by Google. The service also includes Google Docs, Google Slides, Google Drawings, Google Forms, Google Sites, and Google Keep. Google Sheets is available as a web application, mobile app for Android, iOS, Windows, BlackBerry, and as a desktop application on Google's Chrome OS. The app is compatible with Microsoft Excel file formats. The app allows users to create and edit files online while collaborating with other users in real-time. Google spreadsheets is an alternative to Microsoft excel sheets, now these are free to use, online based spreadsheets which have their own special features.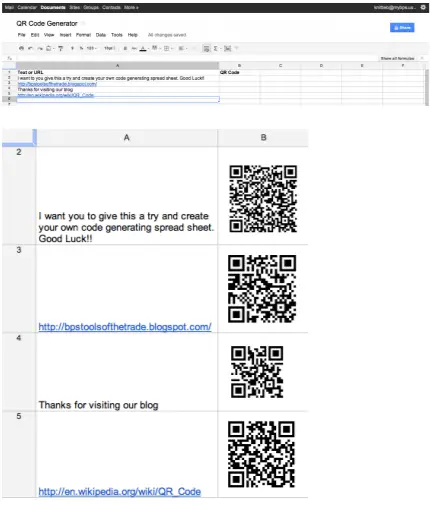 The steps to create QR codes in a google spread sheets are-
Step1- Go to https://docs.google.com/a/ mybps.us and log in to your account.
Step2-Click on the Create button located on the left and choose Spreadsheet.
Step3-Label one column for "Text or URL" and another for "QR code".
Step4-Type the Text or URL you want to be accessed when the QR code is scanned.
Now the point to be noted here is that the text which you enter should be from 50-4000 words to get a better and accurate QR code.
Step5-Copy and paste the following in the cell below "QR Code" in this case cell B2, then press enter a QR code will appear. =image ("https://chart.googleapis.com/ chart?chs=150x150&cht=qr&chl=" & A2).
Step6-Click once on cell B2 to select it. Then click the tiny blue square in the bottom right corner of the cell and drag down to fill down the formula in the remaining cells for the text or URLs you have entered. You may need to resize the cells to see the QR codes clearly.
Then hit the print option to get a copy of the spreadsheet including the QR codes in it, and share them to your friends and enjoy!!